A 25 YEAR HISTORY AS A MAGNETS SUPPLIER FOR INDUSTRIAL APPLICATIONS
CIMI has a deserved reputation of being a high-quality magnet manufacturer of custom turnkey magnets and magnetic assembly throughout North America.
Here are some of our current capabilities in magnetic materials:
– Alnico: We have the largest Alnico magnet manufacturing production facilities in the world. Current production capability exceeds 200 metric tons per year. Available grades include from Alnico 2 through Alnico 8. All grades are available in either cast or sintered Alnico. While maintaining the same magnetic properties as the cast Alnico, sintered Alnico utilizes powdered-metal technology. This enables CIMI to manufacture parts with complex geometries that are both thin and small in size, without external secondary operations.
– SmCo: SmCo magnets products are available in both SmCo5 ((BH) max from 16 to 24 MGOe) and Sm2Co17 ((BH) max from 24 to 32 MGOe)
– NdFeB: Our state-of-the-art magnets manufacturing facility has production capabilities exceeding 2000 metric tons per year. CIMI has a very strong and professional R&D team that is renowned among all the magnet suppliers. CIMI concentrates in developing and manufacturing high-energy and high-coercive magnets. Grades available include N35 – N52, and are suitable for high temperatures up to N35AH (operating temperature up to 220°C). Available with NiCuNi plating as well as various other platings and coatings.
– Bonded Magnets: CIMI can provide various grades of bonded Ferrites and Bonded NdFeB materials.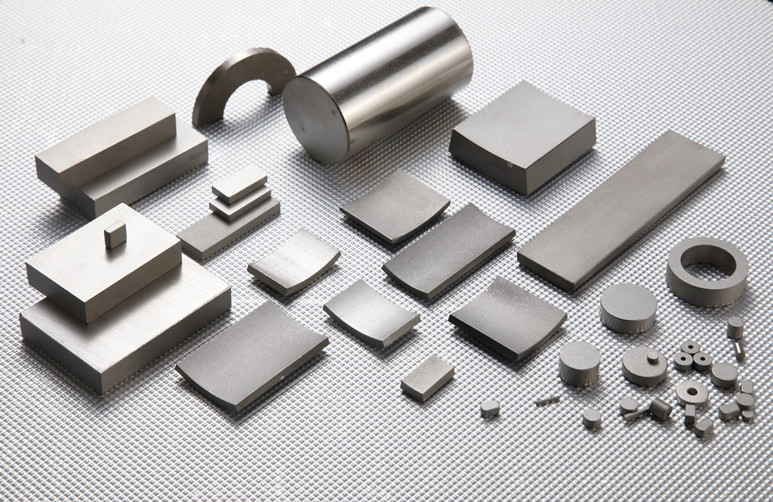 Magnet Manufacturer
Our expertise in turnkey magnet manufacturing includes:
– Sophisticated Machining: We have a wide range of machines for fabricating magnets and other metals in-house. CIMI is capable of making magnets in virtually any shape and size.
– Complex Magnetic Assembly: CIMI is experienced in making a variety of magnetic assemblies, including insertion molded plastic assemblies with very tight tolerances.
CIMI's modern, leading-edge factory has a history of attaining highest levels of compliance, with a long list of industry certifications including:
– ISO 9002:1994
– ISO 9001:2000
– ISO/TS 16949
– ISO 14000
– OHSAS 18001:2007
Our commitment to highest technical quality standards, environment excellence standards, and safety standards set us apart as a premier magnet supplier. Many of the CIMI's industrial magnet customers have partnered with us for over a decade. Our proven commitment to this trusted manufacturer/customer relationship makes CIMI a wise choice as your dedicated long-term magnet supplier.
Just a few CIMI target applications:
– Electric motors
– Automotive designs
– Aerospace applications
– Educational equipment
– Sensors/ detectors/ radar
– Audio equipment
– Instrumentation
– Medical and engineering equipment
– Consumer electronics applications
– A wide range of home and commercial appliances
CIMI has invested heavily in technologically advanced testing equipment including accelerated life testing, coatings thickness measuring, carbon/sulfur analyzer, laser particle analyzer, magnetic angle deviation tester, ICP spectrometric analyzer and hydrogen/oxygen analyzer.
CIMI partners say that one of our most important attributes is in providing a complete turnkey solution with consistent quality and timely delivery.
Please call CIMI's magnet assembly and design team, in California, at (650) 375-7006.
Learn more about magnet manufacturing here – https://cimisf.com/specialty-magnets/magnet-manufacturer/